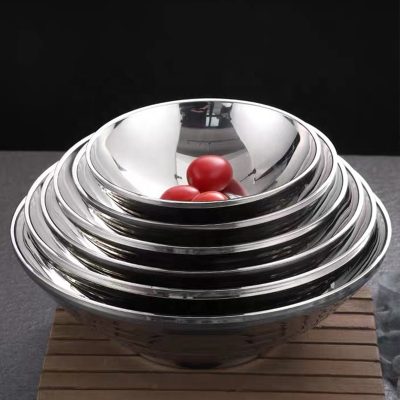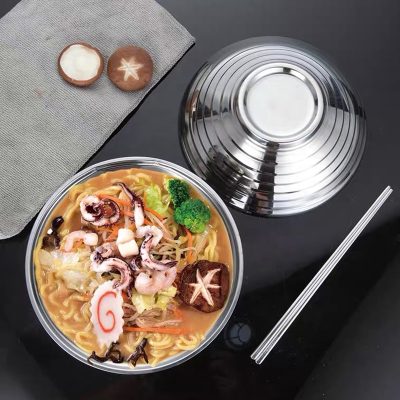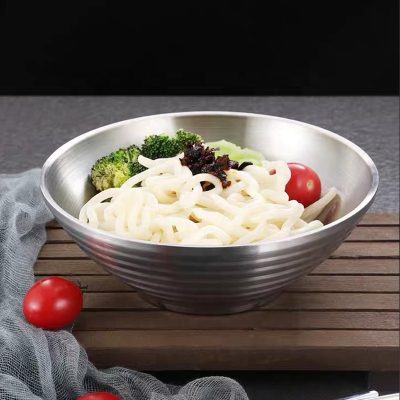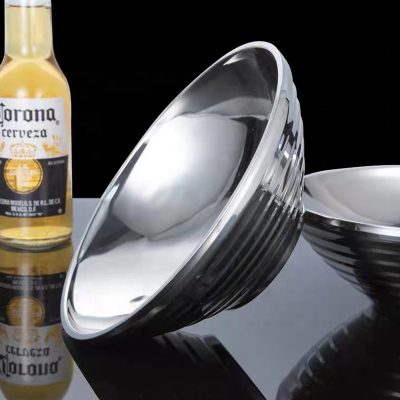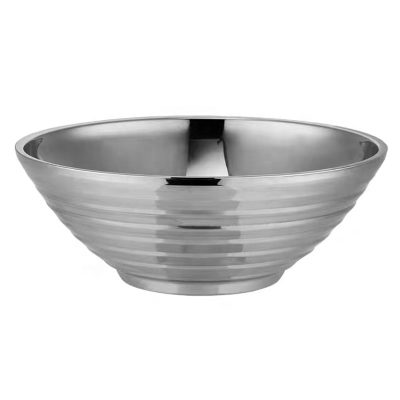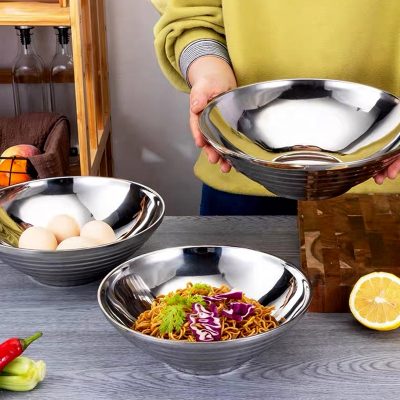 | | |
| --- | --- |
| Product Name | Steel Bowl |
| Size | 22*11cm |
| Weight | 620g |
| Material | stainless steel 201 |
| Logo | Customized |
| Shape | Round shape |
| Feature | Eco-friendly |
| Suitable for | Mixing salad bowl, wash fruit, vegetable, rice and so on. |
| Packing | pp bag |
| MOQ | 5pcs |
|  Sample request time | One week according to your request |
Stainless steel is made of iron-chromium alloy mixed with some other trace elements. Due to its good metal properties and resistance to rust than other metals, the resulting utensils are beautiful and durable. Therefore, more and more are used to make tableware, and gradually enter the majority of families. Stainless steel is made of iron-chromium alloy mixed with some other trace elements. Stainless steel tableware for households can be divided into three grades: 430, 304 (18-8), and 18-10. Stainless steel antibacterial tableware refers to a new type of stainless steel antibacterial tableware with the function of killing or inhibiting microorganisms, and its special feature lies in the materials used. Antibacterial materials refer to a new type of functional materials that have the ability to inhibit or kill surface bacteria by adding certain antibacterial substances, such as antibacterial plastics, antibacterial fibers and fabrics, antibacterial ceramics, and antibacterial metal materials.  In the modern era where people have increasingly higher requirements for environmental hygiene, the application of antibacterial materials has received more attention. Consumers choose "austenitic" stainless steel and "martensitic" stainless steel. Bowls, plates, etc. are generally made of "austenitic" stainless steel, which is not magnetic; knives, forks, etc. are generally made of "martensitic" stainless steel, and "martensitic" stainless steel is magnetic. Under normal circumstances, for stainless steel tableware of the same thickness and shape, high-end tableware will be heavier than low-grade tableware. However, the difference in density is very small. The density of 304 stainless steel is 7.93, and the density of 430 and 420 is 7.85, which cannot be judged intuitively.
Stainless steel tableware is not easy to break, easy to use and easy to maintain. Many people think that it is very "skinned", so they do not pay attention to the method and method when using and cleaning, resulting in artificial damage. For example, cleaning with steel wool will cause scratches on the surface of the tableware; some people use strong alkaline or strong oxidizing chemicals, such as soda, bleaching powder, sodium hypochlorite, etc. to wash, which is not correct. In fact, to solve some stubborn stains, stainless steel special cleaner can be easily done. Some environmentally friendly and practical tips can also solve big problems. For example, after roasting the carrot heads that are not used in cooking, they can be used to wipe stainless steel products after roasting them on the fire. Wipe the leftover radish or cucumber shavings with detergent, which can not only clean but also polish.