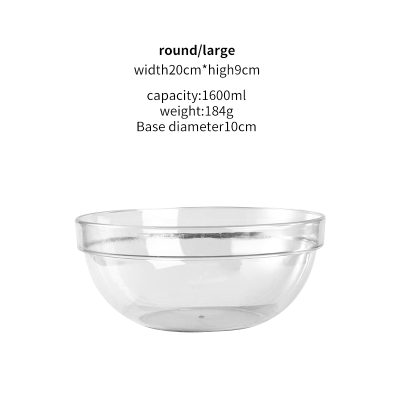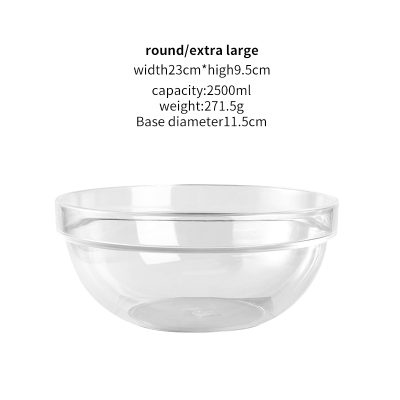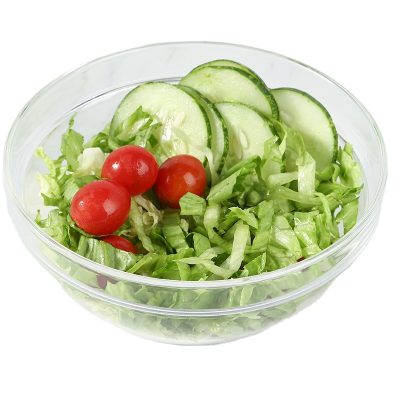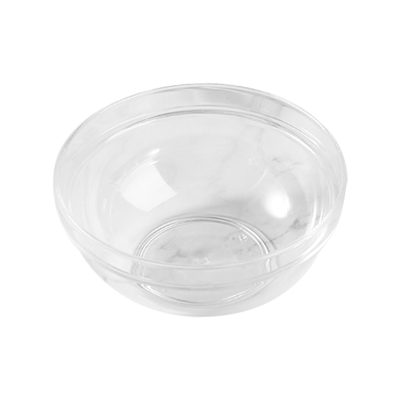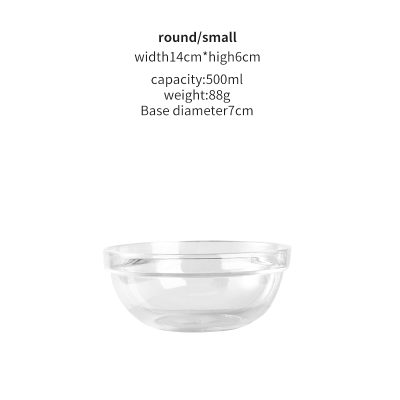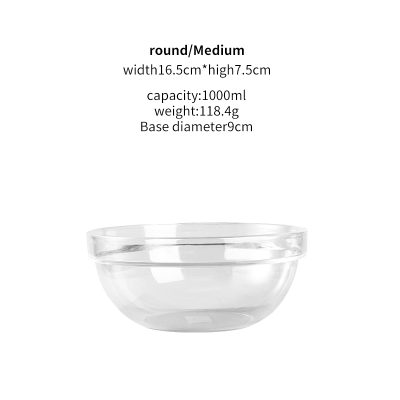 | | |
| --- | --- |
| Product Name | Acrylic Bowl |
| Material | Acrylic |
| Size | Dia.13×9.5H CM |
| Color | Clear |
| Weight | 600g |
| Packaging | Color Box |
| Pcs/Carton | 1pcs/box |
| Carton Size | 53.5×30.2x54CM |
| MOQ | 7PCS |
| Sample Lead Time | 7 days |
| Delivery time | 45 days after receiving payment |
| Payment terms | 30%TT deposit,the rest against the copy of B/L,or L/C st sight |
Acrylic, also known as PMMA or plexiglass, is derived from English acrylic (acrylic plastic), and its chemical name is polymethyl methacrylate. It is an important plastic polymer material developed earlier. It has good transparency, chemical stability and weather resistance, easy dyeing, easy processing and beautiful appearance. It is widely used in the construction industry. Plexiglass products can generally be divided into cast sheets, extruded sheets and molding compounds. Hardness is one of the parameters that best reflects the production process and technology of cast acrylic sheets, and is an important part of quality control. The hardness can reflect the purity of the raw material PMMA, the weather resistance of the sheet and the high temperature resistance. The hardness directly affects whether the plate will shrink and bend, and whether the surface will crack during processing. Hardness is one of the hard indicators for judging the quality of acrylic sheets. Polymethyl methacrylate has good comprehensive mechanical properties and ranks in the forefront of general-purpose plastics. The tensile, bending, and compressive strengths are higher than those of polyolefins, and also higher than those of polystyrene and polyvinyl chloride. The impact toughness is poor. But also slightly better than polystyrene. The cast bulk polymerized polymethyl methacrylate sheet (such as plexiglass sheet for aviation) has higher mechanical properties such as tensile, bending and compression, and can reach the level of engineering plastics such as polyamide and polycarbonate.
Due to the difficulty and high cost of acrylic production, there are many low-quality and cheap substitutes on the market. These substitutes, also known as "acrylic", are actually ordinary organic boards or composite boards (also known as sandwich boards). Ordinary plexiglass is cast with ordinary plexiglass cracking material and pigments. Ordinary plexiglass is cast with ordinary plexiglass cracking material and pigments. The surface hardness is low, it is easy to fade, and the polishing effect is poor after grinding with fine sand. The composite board only has a thin layer of acrylic on the surface, and the middle is ABS plastic, which is easy to delaminate due to thermal expansion and contraction during use. Real and fake acrylic can be identified from the subtle color difference and polishing effect of the sheet section.